We support those who are used to helping others. Healthcare professionals share with us the most challenging moments in our lives. To express our gratitude, we want to offer them the best ways to travel.
Doctors on Board is a program created by S7 Airlines and the Aviation Medicine Doctors Association (AMDA). We want physicians, whose work is difficult to overestimate, to travel with greater comfort and to have more opportunities to relax. And we believe that S7 Airlines passengers will feel even more safe when they are accompanied by experts in their field who are ready to help.
Benefits for Doctors on Board program members
A 10% discount off the full fare on all S7 Airlines tickets
5,000 S7 Priority welcome miles for registering in the program and 1,000 miles for completing educational courses from AMDA
20% more miles for each flight with S7 Airlines
One piece of baggage in addition to the baggage allowance included in the fare
Free cabin seat selection
Priority check-in at the business class counter
Ingosstrakh professional liability insurance
S7 Airlines miles may be used to partially or fully pay for tickets and additional services.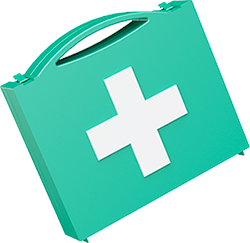 Any healthcare professional may become a member of the Doctors on Board program. To do so, you need to go through a simple registration process on the Association's website: submit an application and provide documents confirming your medical qualifications (your university diploma and certificate of a healthcare professional). Upon verification, the doctor will receive a unique S7 Airlines loyalty program member number and will be able to enjoy all the benefits.
Every member of the Doctors on Board program will have access to an educational course on aviation medicine and the special aspects of providing medical assistance on board. You will be able to broaden your qualifications and gain truly unique knowledge1.
When buying a ticket on s7.ru or checking in for an S7 Airlines flight, program members have the option to indicate whether they are willing to provide first aid on board.
The crew will receive the information in advance and will be able to immediately turn to the doctor if a need arises; this will help save valuable time in assisting the passenger.
We do not impose any obligations on program members: it will always be up to you to decide whether to respond to a call, and we will respect your decision. Access to benefits does not depend on this in any way; they are available to all members of the Doctors on Board program.
Frequently Asked Questions
Who may participate in the program?
May healthcare professionals of any specialty join the Doctor On Board program?
Is it true that the loyalty program is applicable to all flights by healthcare professionals, both business and personal ones?
What obligations does the program impose on doctors and other healthcare professionals who join the loyalty program?
May a doctor who joins the program refuse to provide medical assistance on board?
What kind of assistance is expected from a doctor on board?
What items are included in the first aid kit on board?
Which risks are covered by the Ingosstrakh insurance?
Will other passengers know that there is a doctor among them?
How are responsibilities shared between S7 Airlines and AMDA?
What is the format of the aviation medicine and first aid on board courses?
How can I join the program?
I have not received a letter confirming the acceptance of my application. What shall I do?
I filled out the registration form, but after my documents were reviewed, I was refused membership. Why?
Do I need to register with S7 Priority to become a member of the Doctors on Board program?
I am already a member of the S7 Priority program. Should I indicate my number somewhere?
When are welcome miles credited?
What benefits do I have as a member?
How do I get a discount if I am a program member?
I have done everything according to the instructions, but the discount has not been applied. Why?
If I buy a ticket for someone else, will they have access to my Doctors on Board member benefits?
Why is the discount smaller than I expected?
1The course materials are developed and made available by the Aviation Medicine Doctors Association (AMDA). AMDA is responsible for issuing documents confirming completion of the course by a Program Member. Program Members may obtain additional details by contacting the Aviation Medicine Doctors Association directly by phone and/or through the website.