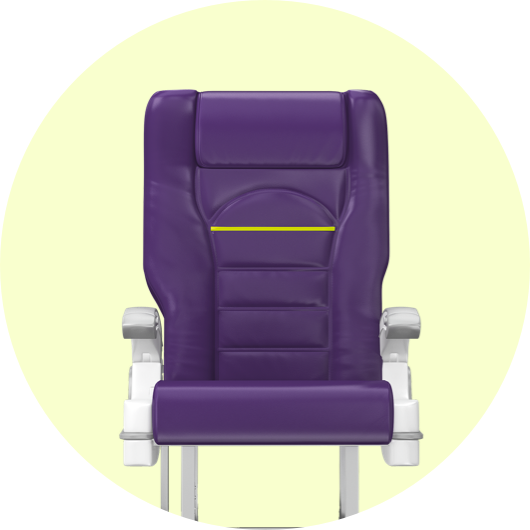 Upgrade, get moved up to business class
Upgrade, get moved up to business class
You can use your miles to upgrade your service level so you can enjoy a comfortable flight and change your ticket from economy class to business class.
You can upgrade your class of service:
by calling the S7 Priority Service Center at 8 800 700-90-10;
when you check in at the airport of departure;
The service is available for S7 Airlines own flights.
By calling the service center, you can book the service for any economy class fare that participates in the accrual of miles, provided that there are available seats and the upgrade is technically possible.
The service is booked for any person specified by the member, provided that there are sufficient miles on the account and the member abides by award eligibility terms.
The service does not include a visit to the business lounge, unless the service is included in the fare of the originally issued ticket.
The size of baggage allowance is determined by fare rules of the purchased ticket.
Only one account may be used to purchase the service for the same booking.
Status passengers may book additional services according to the S7 Priority program terms.
Voluntary refunds of miles for a service are permitted.
Voluntary changes to transportation terms are now allowed.
Involuntary refund is carried out according to the airline's rules.
The service center may book the service no earlier than 48 hours and no later than 3 hours before the flight departure. At the check-in counter at the airport of departure, the service becomes available 3 hours before departure. During online check-in, the service is available no earlier than 30 hours and no later than 3 hours before the flight departure.
S7-Tinkoff cardholders and elite Platinum status holders are eligible for a free service upgrade both for the members themselves and for two of their companions, provided all the tickets are part of the same booking.
The free upgrade service is available immediately after the purchase of the ticket and no later than 90 minutes hours before the flight departure.
The service is not provided for the subsidized family fare.
Please note that when you book an upgrade for miles at an airport counter, additional fees may apply if your destination is one of the following cities: Abakan, Astrakhan, Blagoveshchensk, Bratsk, Bryansk, Vladikavkaz, Kaliningrad, Kaluga, Krasnoyarsk, Lipetsk, Magadan, Mirny, Nadym, Nizhnekamsk, Noyabrsk, Penza, Petropavlovsk-Kamchatsky, Surgut, Yuzhno-Sakhalinsk.