We want you to feel safe. This is the guiding principle behind all of our actions. The information on this page will tell you more about safe flights with S7 Airlines and will help you make a decision when you are ready.
Special marking, antiseptic, and other measures at the airport
Boarding in groups, maintaining distance when boarding an airplane
A highly efficient filter system and much more on board
At the airport
You will find mobile sanitizers in the flight check-in area of all our major airports.

All passenger service areas and equipment, including check-in counters, payment terminals, etc., are regularly disinfected.

Our employees are provided with antiseptics and always wear masks and gloves when working.

Special marking has been made in the check-in area, which will help you maintain social distance.
When boarding
Whenever possible, we always try to avoid accumulation of passengers and use jet bridges and pedestrian waiting areas for boarding.

If passengers are transported to the aircraft by bus, we try to increase the number of buses for each flight to make it easier for passengers to maintain a safe distance. Buses are disinfected before each trip.

We have changed our approach to airplane boarding. Now passengers are invited to board in groups, starting with those whose seats are in the rear of the aircraft. This helps to reduce potential contacts.

If the flight load permits, during check-in we automatically assign passengers seats at a safe distance from one another.
In the cabin
S7 Airlines aircraft are thoroughly disinfected. A highly efficient HEPA filter system purifies and freshens the air on board. In between flights, we air the cabins and wipe all surfaces.

All crews have received instructions on how to act if a crew member or a passenger starts feeling sick or displays coronavirus symptoms.

Flight attendants undergo a medical checkup before each flight. During the flight they always wear masks and gloves and regularly update their protective gear. This helps to serve passengers as safely as possible.

On board passengers are given disposable wipes with an antibacterial effect to disinfect hands, as well as reusable masks.

Blankets and pillows are thoroughly disinfected after each use, and safety instructions are changed more often.

Every dish in our menu is cooked and placed in airtight packaging at special cabin food production points. The entire cooking process meets the Rospotrebnadzor requirements, and production point personnel work in protective suits.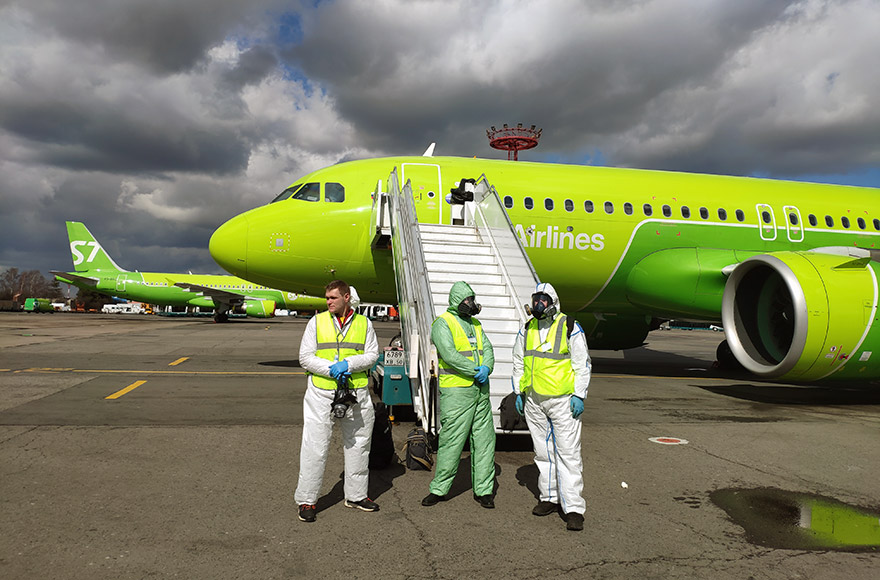 Discounted COVID-19 Testing
To travel with confidence, it is helpful to get help with the PCR test results for Covid-19. In many cities of Russia, for free entry, it is enough to present it at the airport.
COVID-19 Testing: Everything Passengers Need to Know Before Traveling
Test for COVID-19 at Domodedovo Airport with a 10% discount
Gemotest: 15% discount on PCR testing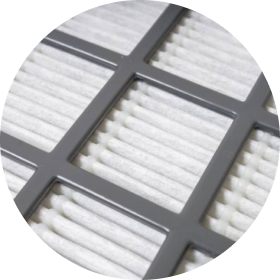 How do HEPA filters purify cabin air?
HEPA is not a brand or a product name. It is a filter class defined by the EN 1822-1:2009 and GOST R EN 1822-1-2010 international and national standards.
A HEPA filter captures even the smallest particles, which, due to their light weight, cannot settle on surfaces. The foundation of the filter is made of randomly arranged fibers of different thicknesses. It is these fibers that effectively "catch" all harmful particles.
Would you like to know how filter fibers capture particles?
Experts' Views on Air Safety
According to the International Air Transport Association (IATA), as of May 5, 2020, not a single case of transfer of COVID-19 from a passenger to a passenger during a flight has been recorded.

Social Responsibility
Try to keep a distance between yourself and other people—at least two meters. Do not form lines at the airport, when boarding a flight, and in the cabin.
Useful Technology
Check in for your flight on the website or through the mobile app to avoid waiting in line at the check-in counters at the airport. Check your departure time online to avoid accumulation of people.
Personal Hygiene
Follow the WHO guidelines. Wash your hands and treat them with an alcohol-containing antiseptic. Cough or sneeze into your elbow. Be sure to wear a mask and gloves at the airport and in the airplane cabin.