To fly with meaning
18.04.2016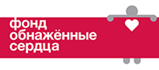 The Naked Heart Foundation, an international charitable foundation established by Natalia Vodianova, has been promoting development of the inclusive society that is open to people with disabilities and special needs.
From 2004 the foundation has been implementing special educational and play programmes for children in Russia and other countries. «Play with purpose» is one of such programmes, which is based on the idea that for a child playing is not a luxury but a necessary element of development and learning the world. By now by efforts of the foundation more than 150 special inclusive play parks and play grounds are built in more than 100 Russian cities. Many play units are built on the territory of orphanages and children's hospitals, cancer centers and residential facilities in order to make the play process secure and open for every child.
Another area of focus of the foundation is the programme «Every Child Deserves a Family». Within this programme the Naked Heart Foundation with Natalia Vodianova as the leader try to break the existing Russian tradition of giving children with developmental disorder for adoption. The foundation creates and develops a system of free services for disadvantaged families with children with developmental disorder, e.g. autism, infantile cerebral paralysis, Down's syndrome, mental subnormality, etc.
Within the joint charitable project of S7 Airlines and the Naked Heart Foundation S7 Priority members have an opportunity to transfer miles collected to the account of the foundation. With these miles the companies will collect funds for building a children's play ground in Perm, where all young residents of the city without any exceptions will be able to play already in September 2016. A play area is necessary for the Centre for psychological, educational, medical and social help, where the new play ground will be constructed, at the moment in the Center there is no equipped playing facility for children.
How to grant miles
To transfer miles to the account of the Naked Heart Foundation you should:
refer to the Programme Service Centre at a toll-free number 8 800 700–9010
or
use your Member Personal Profile at s7.ru, section Customer support, choose «Charitable Foundation» as the message subject and specify the name of the foundation and the number of miles to be transferred.
E.g.: «I kindly ask you to transfer 1 000 miles to the account of the Naked Heart Foundation».
+7 (495) 775-90-03 | nakedheart.org